Our book club meets on the 2nd Thursday of each month at 10 a.m. and reads a wide variety of books.
If you are interested in joining our group, just stop by the library and ask for the current selection. The books are provided on loan to us by the Potter-Tioga Library System.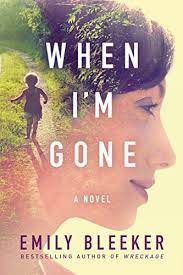 Current book: When I'm Gone by Emily Bleeker
Luke Richardson has returned home after burying Natalie, his beloved wife of sixteen years, ready to face the hard job of raising their three children alone. But there's something he's not prepared for—a blue envelope with his name scrawled across the front in Natalie's handwriting, waiting for him on the floor of their suburban Michigan home.
The letter inside, written on the first day of Natalie's cancer treatment a year ago, turns out to be the first of many. Luke is convinced they're genuine, but who is delivering them? As his obsession with the letters grows, Luke uncovers long-buried secrets that make him question everything he knew about his wife and their family. But the revelations also point the way toward a future where love goes on—in written words, in memories, and in the promises it's never too late to keep.
-Amazon
The Alchemist by Paulo Coelho
Americanah by Chimamanda Ngozi Adichie
The Art of Fielding by Chad Harbach
The Art of Racing in the Rain by Garth Stein
Beautiful Boy by David Sheff
Behind Closed Doors by B.A. Paris
The Body in the Clouds by Ashley Hay
The Boys in the Boat by Daniel James Brown
Breakfast with Buddha by Roland Merullo
Bright and Distant Shores by Dominic Smith
The Choices We Make by Karma Brown
The Cold Dish by Craig Johnson
The Courtier's Secret by Donna Russo Morin
Crazy for the Storm by Norman Ollestad
A Cup of Tea by Amy Ephron
Cutting for Stone by Abraham Verghese
David and Goliath by Malcolm Gladwell
Dead Wake by Erik Larson
Death at the Chateau Bremont by M.L. Longworth
The Devlin Diary by Christi Phillips
The Dinner by Herman Koch
The Dog Stars by Peter Heller
Don't Go by Lisa Scottoline
Double Bind by Chris Bohjalian
Dragon House by John Shors
Eleanor Oliphant is Completely Fine by Gail Honeyman
Elizabeth Street by Laurie Fabiano
Every Last Cuckoo by Kate Maloy
The Excellent Lombards by Jane Hamilton
The Faith Club by Ranya Idliby, Suzanne Oliver & Priscilla Warner
The Fifth Avenue Artists Society by Joy Callaway
Flight Behavior by Barbara Kingsolver
The Friday Night Knitting Club by Kate Jacobs
The Goldfinch by Donna Tartt
The Guernsey Literary and Potato Peel Pie Society by Mary Ann Shaffer
Heart in the Right Place by Carolyn Jourdan
Hidden Figures by Margot Lee Shetterly
Hitchhiking with Larry David by Paul Samuel Dolman
Hollow Ground by Natalie S. Harnett
Hope's Boy by Andrew Bridge
Hotel on the Corner of Bitter and Sweet by Jamie Ford
Hush by Kate White
I Still Dream About You by Fannie Flagg
The Immortal Life of Henrietta Lacks by Rebecca Skloot
In the Garden of Beasts by Erik Larson
The Invention of Wings by Sue Monk Kidd
The Kommandant's Girl by Pam Jenoff
The Last Painting of Sara De Vos by Dominic Smith
Lawrence in Arabia by Scott Anderson
The Leisure Seeker by Michael Zadoorian
Liar Temptress Soldier Spy by Karen Abbott
Life on the Color Line by Gregory Howard Williams
The Life we Bury by Allen Eskins
The Long Walk by Slavomir Rawicz
Love in the Time of Cholera by Gabriel García Márquez
Major Pettigrew's Last Stand by Helen Simonson
A Man Called Ove by Fredrik Backman
Me Before You by Jojo Moyes
The Mermaid Chair by Sue Monk Kidd
Mozart's Last Aria by Matt Rees
Murder at the Vicarage by Agatha Christie
My Life in France by Julia Child
News of the World by Paulette Jiles
The Night Circus by Erin Morgenstern
No One Knows by J.T. Ellison
Nobody's Fool by Richard Russo
Not Without Hope by Nick Schuyler
On Beauty by Zadie Smith
One Last Thing Before I Go by Jonathan Tropper
One Thousand White Women by Jim Fergus
Orphan Train by Christina Baker Kline
The Other Typist by Suzanne Rindell
Parlor Games by Maryka Biaggio
A Rare Titanic Family by Julie Williams
The Rebellion of Jane Clark by Sally Gunning
The Red Tent by Anita Diamont
The Road to Bittersweet by Donna Everhart
Room by Emma Donoghue
Same Kind of Different As Me by Ron Hall & Denver Moore with Lynn Vincent
Sarah's Key by Tatiana De Rosnay
Saving CeeCee Honeycutt by Beth Hoffman
Shakespeare Saved My Life by Laura Bates
Skyscraping by Cordelia Jensen
The Sound of Glass by Karen White
Sounds Like Crazy by Shana Mahaffey
Speaking in Tungs by Karla M. Jay
Spirit of Steamboat by Craig Johnson
Take Me With You by Catherine Ryan Hyde
The Tea Girl of Hummingbird Lane by Lisa See
The Thirteenth Tale by Diane Setterfield
The Time In Between by Maria Duenas
The Things We Cannot Say by Kelly Rimmer
To the End of the Land by David Grossman
Turn of Mind by Alice LaPlante
The Unlikely Pilgrimage of Harold Fry by Rachel Joyce
The Vanishing Act of Esme Lennox by Maggie O'Farrell
The Violets of March by Sarah Jio
The Virgin Blue by Tracy Chevalier
Water for Elephants by Sara Gruen
Watermark by Vanitha Sankaran
The White Garden by Stephanie Barron
The White Tiger by Aravind Adiga
The Winter Ghosts by Kate Mosse
The Year of the Hare by Arto Paasilinna
The Zookeeper's Wife by Diane Ackerman